INK T.S. solvent inks are designed for long-term outdoor UV-fastness. These Inks are formulated using pigments and other ingredients that support the required durability. Provided these inks are used under recommended conditions, printed images should not fade significantly for a period of 24~36 months in EMEA (Europe, the Middle East and Africa), APAC / APJ (Asia-Pacific and Japan), NORAM (North America), LATAM (Latin America) conditions.
To achieve minimal fading effects due to UV exposure suitable substrates should be used. Best outdoor durability is contingent upon the type of media used and will only be achieved with certain substrates.
The colour of an image is also affected by the quality of the media and the conditions under which it was printed. Though the quality of the inks is carefully maintained, the position and conditions of the exposed print are important external factors.
The external factors that affect fading include the position of the print relative to the sun and the amount and nature of exposure that the print has had to direct sunlight. More sunlight exposure would place a higher demand on both ink and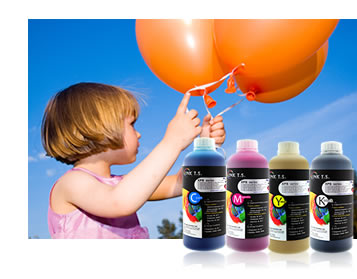 substrate. Higher incidence of acid rain on uncoated prints also takes its toll on ink and media, as does salt water.
Extended durability can be expected when appropriate INK T.S. clear coat liquid laminates are used.
Testing is done using a variety of frequently used substrates. Durability data published by INK T.S. is based upon these tests and relates only to the ink and media used for testing.
INK T.S. continually tests products in accelerated weather testing laboratories in accordance to the ASTM D2565 Standard.